Fargo, North Dakota 9.28.17 — The lights go dim, thrashing riffs begin to blast from the PA system. A group of women take stage wearing black bikinis, some with chains and some with ripped leggings. The crowd is seemingly stunned for the first few minutes. It isn't until the first number is done and two of the performers begin to climb silk curtains leading high above the stage of the arena that the crowd realizes they are in for a show, and not what they were expecting.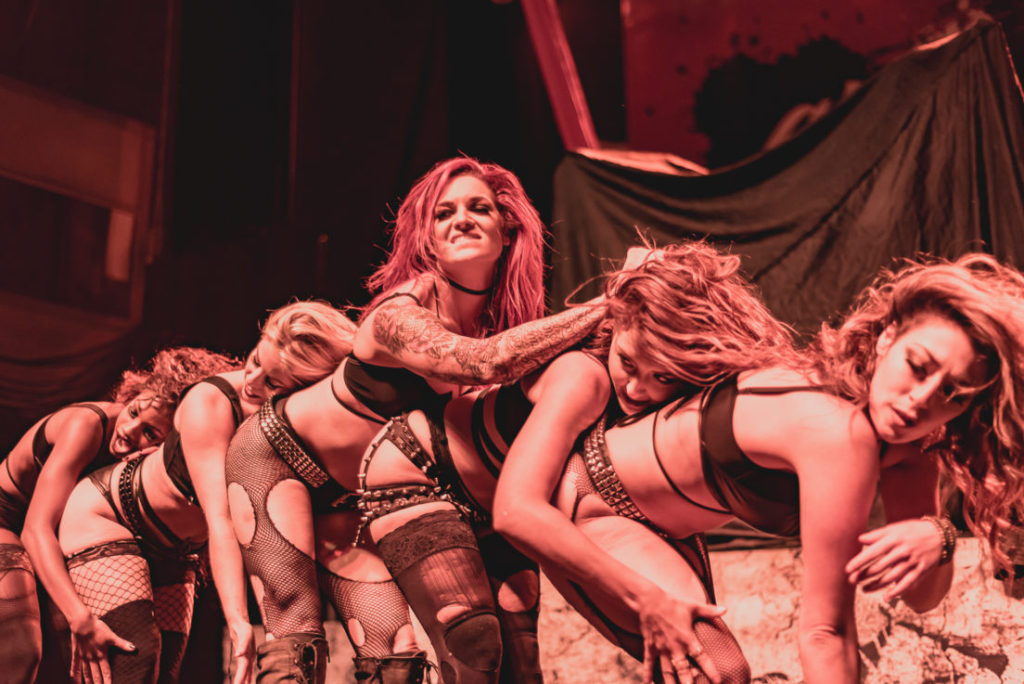 Cherry Bombs are a group of professional dancers performing routines that include pole dancing, aerial acrobatics, fire spitting and fire hooping. They go on to captivate the crowd with dazzling dance routines. If you plan to catch this tour, be sure you get in early to catch this heavy metal dancing, high altitude climbing, pole spinning, flame spitting, fire twirling troupe with attitude.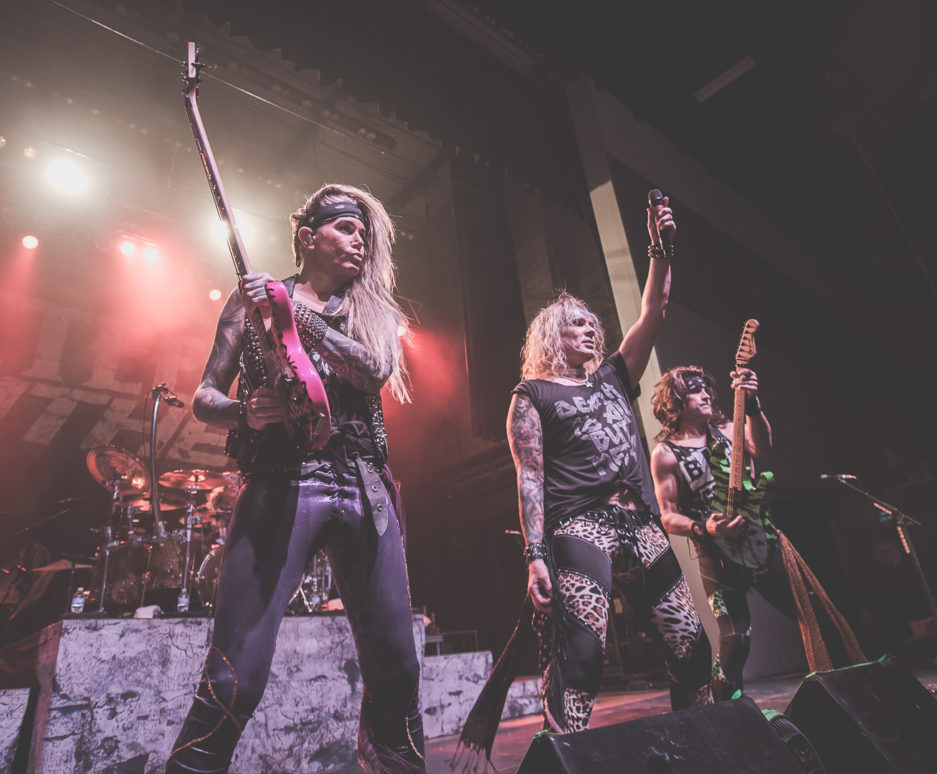 What year is this!? The hair, the make-up, the clothing, the music. Everything about Steel Panther, even the vocals, screams the 1980's hair-metal era. I've read a lot about them but honestly didn't give them a listen because I thought it would be cheesy. And I was right, they are totally cheesy. But what I was wrong about, is how that cheesiness is actually pure awesomeness. I watched the soundcheck while in the company of a well-known vocalist. I was truly impressed by their sound. It was 80's-ish, yet so original. I couldn't wait until show time. Now here I am as they take stage to shred while dawning the attire that accompanies their sound. I am now far more impressed than I was during that soundcheck. Steel Panther downplays themselves with humor, talking in between pretty much every song about tour experiences (mainly involving groupies) to how much each of their fellow bandmates sucks. This is all obviously an act, but it's a good, fun and entertaining act. I can't believe I have purposely avoided them for so long. I'm sorry, Steel Panther! I'm going to make up for that and purchase all their albums and catch up. If you haven't given them a proper listen, don't do as I did! Get to listening right now, and catch them live as soon as possible. You will not regret it! I now wear a headband, Zubaz, a sleeveless Poison shirt and have been listening to a 'Feel the Steel' on repeat.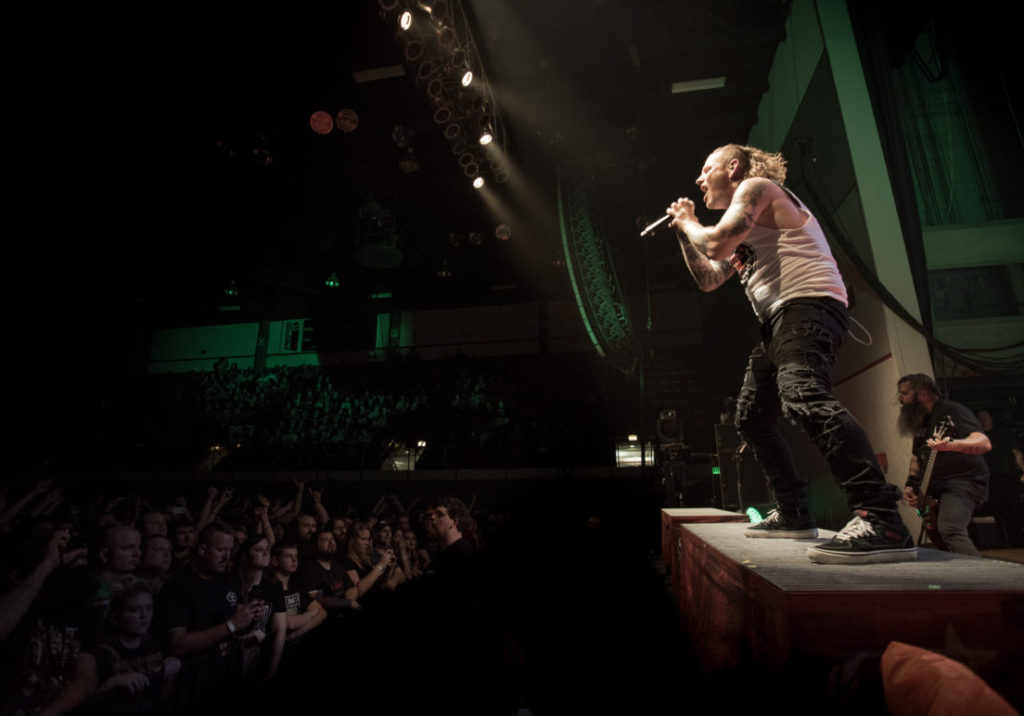 With the exception of the vocalist, the band enters the stage to an audio intro over the PA. The band waves to the anxious crowd. Drummer Roy Mayorga takes a seat behind his kit. He gives a two count on the hi-hat and they collectively go into the song "Taipei Person" as frontman Corey Taylor now enters the stage. Corey immediately takes control of the show. The lights remain rather bright. As the first song of the set hits peak, the crowd is asked "How the fuck are you doing!?" by a raspy singer. The crowd replies with loud woos and with hands up dawning the metal horns. The song gets more intense, and the crowd follows. I see two separate pits have erupted simultaneously. As the song comes to an end, Corey Taylor goes on to explain that he is ill, hence the raspy vocals. The crowd applauds him. The set continues on and Corey comes out with a confetti gun. With paper flying everywhere now, the lightshow has intensified. Corey has seemed to shaken the bug that was affecting his vocals in the beginning. The band is beyond warmed up and it is nothing but pure energy from here on out. The only time chance for a little breather comes prior to an encore set when they perform their latest single "Song #3" and it flows into the hit "Through Glass". Although the lineup has changed throughout the years, Stone Sour the band has been together for a very long time now and everyone in the current lineup has prior stage experience. It's obvious that these guys are professionals. When you see Stone Sour live, you can expect that. They know what they're doing, they will give you an amazing show that is guaranteed to send that energy with you and you will carry that energy for well over a week after the show. I can personally attest to that.