Minneapolis, Minnesota – Even though the generation gap was real and easily noticeable, the Ministry and Death Grips show meshed perfectly.
Sacramento, California's Death Grips has been dubbed as Experimental Hip-Hop, Noise Rap, Industrial Punk, etcetera. Whatever you choose to call them, there's no doubting the groups music is powerful.
Taking the stage first on this co-headline bill alongside the legendary Ministry, Death Grips open their set with lights out, wearing gloves that had green lasers on them. Although a little tough on the eyes and not the best lighting conditions for a photographer, the light show went perfect with the intense sound put out by the band. They performed with only those lasers on for majority of their set.
Death Grips are one of newest favorite performers. They come out and rock their songs, no pauses, crowd interactions or encores needed. Just a solid, powerful, energetic performance.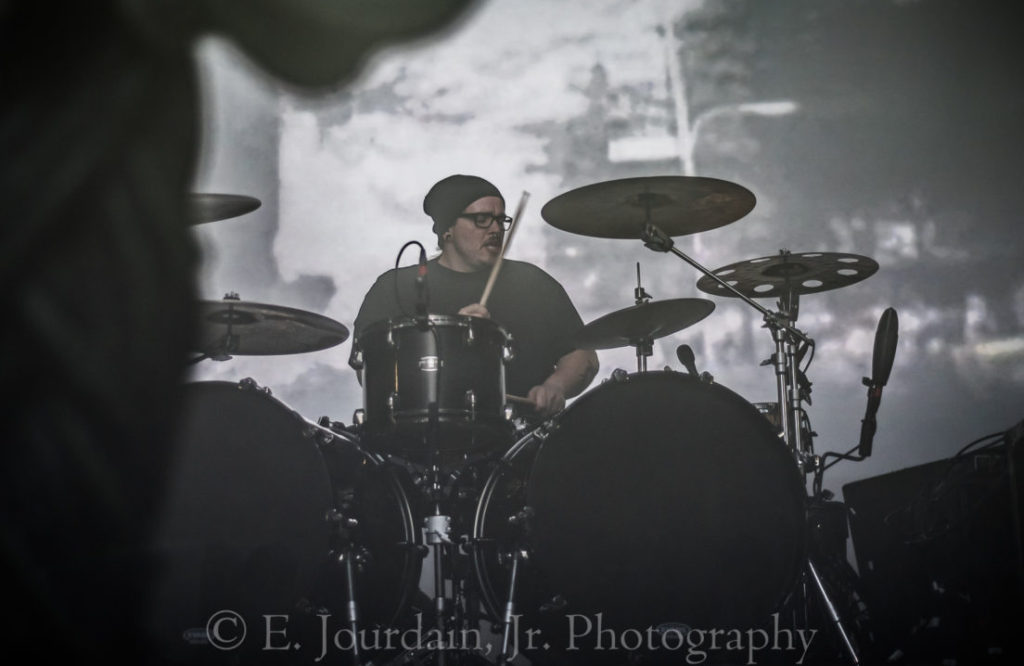 The changeover between the bands wasn't very long. The crowd has thinned out a little on the sides but that just meant the hardcore heads were left to tear down the venue with Ministry.
Inflatable chickens that resemble Donald Trump take the stage. The Trump chickens have crossed out swastikas on them. Ministry's drummer, Derek Abrams, then takes the stage. Abrams is a Minneapolis local and this show was his hometown debut as the drummer for Ministry. I've known Abrams going back to the late 90's when he was in a local band called Sub Level. He then went on to be a part of quite a few of the top bands in the local Minneapolis scene, including Skywynd and Black Flood Diesel. All bands I had the pleasure of performing with back when I was a local performer myself. It was great to see Mr. Abrams on that big stage with some legends.
As the rest of the band comes out, vocalist Al Jourgensen follows, cracking open a can of Heineken and showering the crowd. I happen to be within the vicinity of that shower and a good portion is absorbed into my shirt.
Ministry, known as one of the pioneers of Industrial Metal, opens their set with "Let's Go" and if you're familiar with the bands albums, you know that vocal effects are common in their sound. I noticed immediately that Jourgensen had those effects turned down and seemingly cleaner vocals. He did have two separate microphones, presumably with different vocal effects.
The band, which is comprised of quite the all-star cast, delivered a very impressive and flawless performance which included new songs as well as the classics.