Bemidji, Minnesota – I'd like to begin this brief review by quickly stating the obvious. Bemidji, Minnesota was shook, in a good way.
We don't get many performances by artists of this caliber very often here in the Northland. Bemidji, Minnesota sits in the middle of Winnipeg to the North, Fargo to the West, Duluth to the East and the Twin Cities of Minneapolis/St. Paul to the South.  Oftentimes this city is passed up by major acts or outbid by venues in the mentioned cities, so this event was a very special treat for us in the area. Thousands of fans arrived to Bemidji's Sanford Center. Of course the locals came out in strong numbers, but this event drew in fans from all over the region.  I spoke with people from Canada, Montana and Iowa who came to visit the birthplace of Paul Bunyan but to witness a different giant – that being the mighty Kings of Trash, Slayer.
This concert was more than just a tour stop. It was the opening night of a six-week long run with Lamb of God and Behemoth.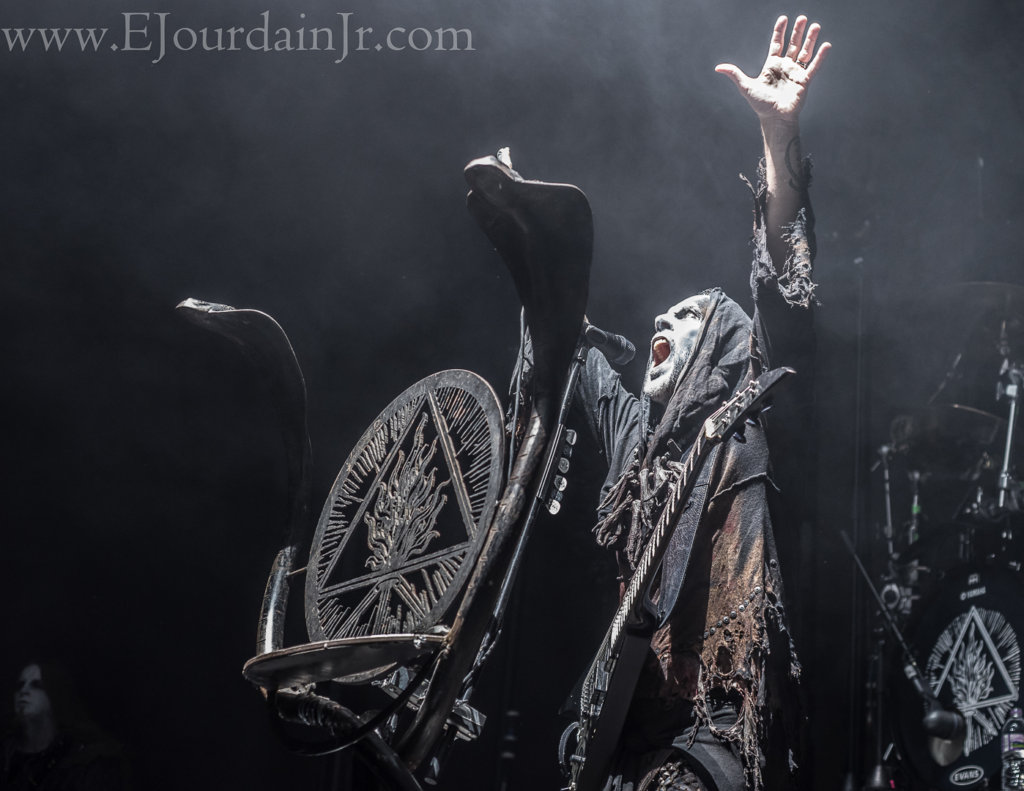 Behemoth kicked off the night and set the stage for some pure heaviness.  A fiery introduction as frontman Nergal walks out on stage dual-wielding flames to the sounds of a dark and deep guitar shredding over a hard stomping bass drum. Behemoth's intro is a grind, breaking into thrashing madness and Hell is leashed upon the small Northern Minnesota city.
Behemoth continues to elevate the energy level of concert-goers during a brief, yet brutal opening set. It is apparent that the Polish "Blackened Death Metal" band had brought out quite the following to join them in Bemidji. They end the set with an Instagram photo with the crowd, all parties seem totally satisfied, as was I. This was my first time seeing them live (I believe) and I was blown away from start to finish. This area hasn't seen a band of this style since Concrete Sound Productions used to throw shows at a local establishment called Mad Hatter well over a decade ago. It was great to have that here again!
Behemoth has a few one-off dates on this tour as well as a few with Lamb of God only. Be sure to catch them in your area! Find the remaining dates here: BEHEMOTH on Tour.
A very brief intermission takes place.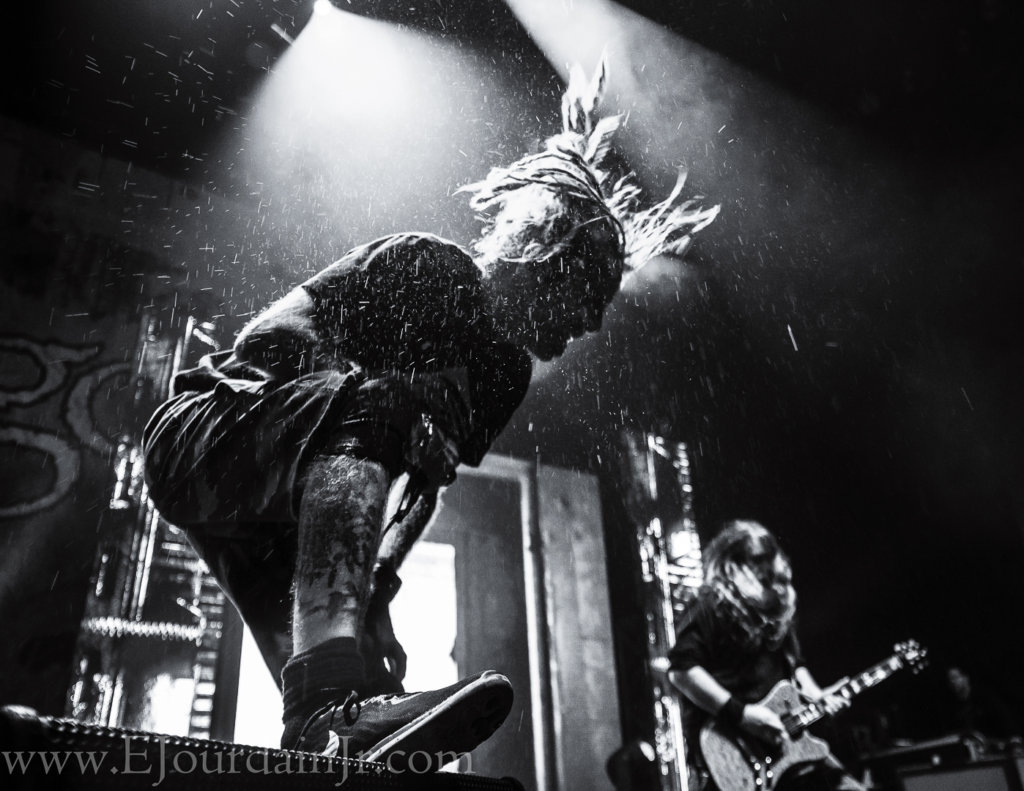 As quickly as Behemoth seemed to come and go, Richmond, Virginia's Lamb of God enters the stage. No awesome flames, no build up, just a simple straight to the point heavy song. The pit has been activated and it's obvious that the frontman Randy Blythe knows what he's doing. He encourages the crowd to be rowdy. The crowd obliges. The band, regardless of their individual hair styles, all have heads banging. Blythe is swinging dreads wildly in all directions. My camera lens needs to be wiped off as dread sweat has splashed my way. I don't care though, if I had hair and if I didn't have a stiff neck from an awkward sleeping position the night prior, I would've been head banging right along with everyone. But I was in the media pit, and I haven't head banged since a Pantera show in early 2000's. But I was definitely feeling the music. By the way, that dread sweat made for an awesome photo that I'm pretty proud of.
Anyways, a few songs in and the band stops for a brief introduction and the crowd is given a quick breather. Blythe shouts out a friend in the crowd, noting that his friend is an Ojibwe (this area is home to, and surrounded by Ojibwe Tribes and rich with history) Blythe thanks his friend using Ojibwe words ("Miigwech, Niiji") the local Natives love it. Lamb of God gets right back into thrashing action. The pit is notably larger. During the 50 minute performance, a classic circle pit gets going, I'm confident we have never had that here. It was a lovely sight. Thank you, Lamb of God.
As I had stated earlier about Behemoth, the same thing goes for Lamb of God. They simply blew me away. Here are their tour dates, go see them! Lamb of God on Tour.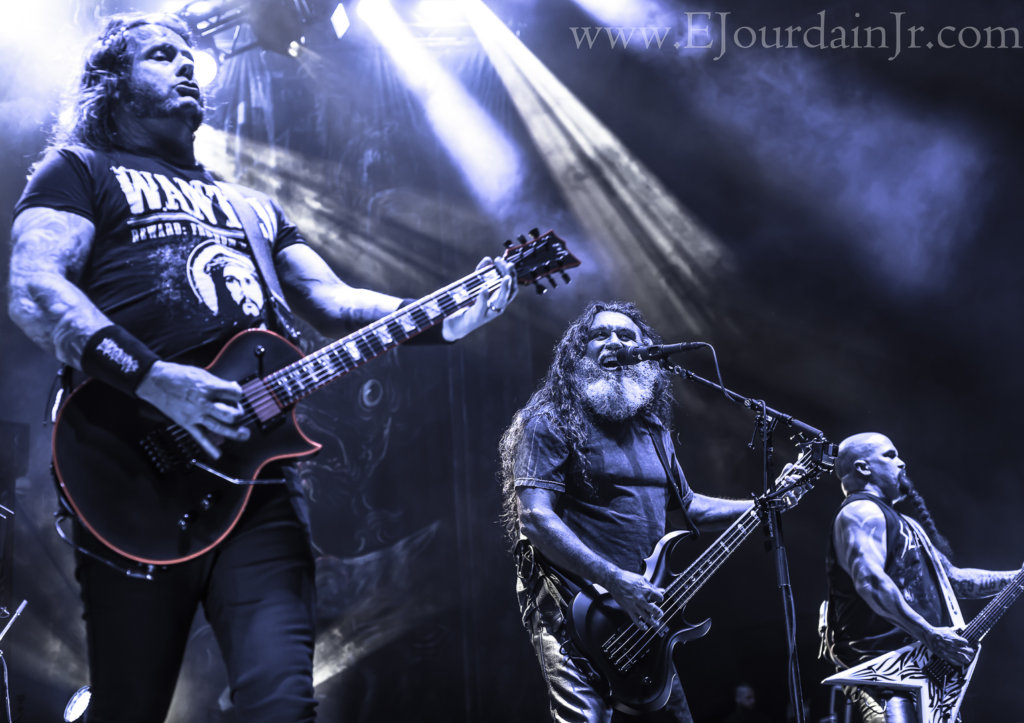 A much longer intermission begins. A giant white curtain drapes down in front of the stage as the changeover takes place. From my vantage point, I can see a huge Slayer backdrop being set up and Paul Bostaph's kit has been uncovered. The techs fine tune Araya's Bass, Holt's guitar and King's guitar. I can see that they have some pyro machines set up. Although this was totally expected, I'm getting goosebumps as I anxiously await the moment when the techs signal the soundboard with a flashlight. That time has come. The lights go out, AC/DC's "Thunderstruck" begins to play over the PA system as crosses are illuminated on the curtain. As the song fades out, the crosses slowly tilt upside down as Slayer plays the intro to "Repentless". The crosses go upside down and a pentagram lights up. The pentagram turns into a Slayer logo and the curtain drops to the album's title track as it kicks in full blast, I myself, am in a "holy shit" moment. The pyro is going off, the music, as we all know, is hard as hell. This is my first time seeing Slayer live in so many years. I think it's my 4th time, I quickly remember that I need to take photos! I'm rushing around in the media pit, luckily there were only a few other photogs. We kind of had our own mini mosh pit, perhaps slam dance-esque moments with each other. Regardless of how many times you see Slayer live, it's never a dull moment. Slayer kills it from start to finish, non-stop pits, non-stop head banging and hair thrashing moments and pyro. They still sound as fresh as they have ever sounded. The show was totally flawless. Slayer performed newer material and of course they did the classics.
I'm still in awe that this tour was in Bemidji, Minnesota. It kicked off here. I think it's safe to say to the bands and all involved in making this happen here, on behalf of the fans from here, that we truly appreciate it and thanks for the visit! Many of us from this area often travel hundreds of miles to catch a quality show. This time, we got to sit back and let it come to us, and let others do the traveling.